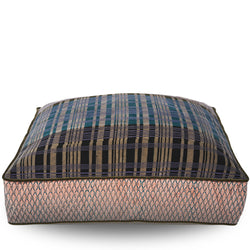 Rambagh Weave Square Floor Cushion
The Rambagh Collection consists of exciting patterns, textures and energetic hues.

No two are similar in style, however they all compliment one other through their eccentric abstract, classic and animal print patterns.

The Rambagh Weave Square Floor Cushion feature a subtle colour combination of olive and turquoise, and a contemporary overprint geometric pattern in lilac, the sides features a sweet block print daisy design on champagne pink velvet with contrast olive piping. The base is natural chambray.
Dimensions: 75W x 75D x 75H cm
Material: Velvet
Comes with a polyester insert