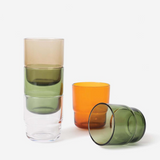 Piccadilly Tumbler / Clear
Sip drinks in style from the Piccadilly Tumbler in clear glass from Città. The considered design allows the tumbler to be stacked, saving room when stored in your cabinet. Available in four colourways and designed to be paired with the Piccadilly Carafe range. 
Dimensions: 7.9 x 9.1 cm 
Materials: Glass
*Care: Gentle hand wash recommended. Dishwasher safe. Do not stack. Not recommended for microwave use.