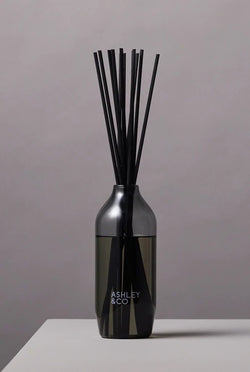 Ashley & Co
Home Perfume - Parakeets & Pearls
Home Perfume does the hard work for you, offering a subtle yet consistent scent in your home, eliminating the need to have to scent 'by hand'. Either proudly on display or nestled away, our reed diffusers emanate each one of our signature scents. Simply allow the perfume to soak and ascend the porous reed and you're set. Choose a scent for each room or have one for the season. Rest assured, each Home Perfume will provide 4-6 months of elegant scent throw.
Green Tea
White Lilly
Orange Rind
Lime
Cardamon
Cypriol Spice

Scent Description

Remember handwritten love letters and dressing for dinner? No? This Old World scent of freshly picked Green Tea and White Lilies will help bring the glamour back to modern day.

Scent Profile

Lily, Cardamon and Tea, with A floral spicy accord, is accentuated by the spring like top notes of Citrus Lime, Orange Rind and Bergamot.