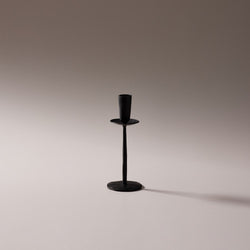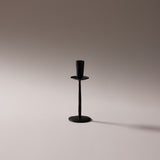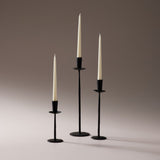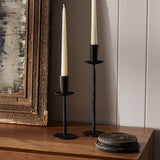 Atelier Candlestand / Short
Enhance the ambiance of your space with the Atelier Candle Stand, an exquisite blend of classic design and minimalist aesthetics. Crafted from sturdy iron and finished in a natural black colour, this candle holder exudes timeless elegance that effortlessly complements any interior style.
With its thin, straight stands and simple saucer top to hold taper candles, the Atelier Candle Stand offers a clean and refined look that celebrates the beauty of simplicity. Light up your living spaces with the warm glow of taper candles held gracefully by this thoughtfully crafted stand.
Available in three sizes – short, medium, and tall – the Atelier Candle Stand invites creativity in styling. Whether clustered together to create a striking centerpiece or placed individually around your home, these candle stands are versatile decor pieces that elevate the ambiance of your home.
Dimensions Small -

7.5 L x 7.5 W x 20 H

cm
Materials: IRON/ NATURAL BLACK