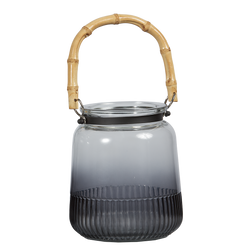 Lune Smoke Candleholder Small
The Lune collection of glass votives and candleholders offers a stunning array of sizes and patterns in tones of warm Pink, Blue and Green.
The Lune Smoke Candleholder comes in two sizes, large and small. There is a striped pattern along the bottom half of the vessel and the holders are finished with a bamboo handle. Mix and match with other candleholders in the lune collection.
Dimensions: 14D x 16H cm
Material: Glass, Bamboo, Metal