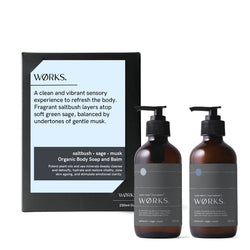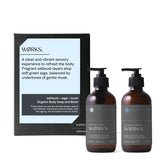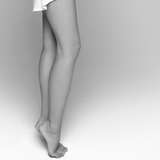 Works
Saltbush Duo Box / 250ml
Inspired by clean Scandinavian living, WØRKS creates pure and organic sensory products with a balanced, minimal approach.
A clean and vibrant duo to revitalise the skin and stimulate emotional clarity. Fragrant saltbush layers atop soft green sage, balanced by gentle musk undertones.
A revitalising body duo to detoxify and clear impurities, minimise trans-epidermal water loss, support elastin production and slow skin ageing while gently stimulating emotional clarity.
Cocoa seed butter: rich in phytochemicals to improve blood flow, slow skin ageing and protect against UV damage; high in fatty acids for deep hydration; contains oleic, palmitic and stearic acids to nourish the skin.
Carrot seed oil: natural cell regeneration properties; deeply moisturising; natural anti-inflammatory properties to calm and balance the skin.
Marine extract: rich in natural vitamins and minerals to soothe, soften and reduce sensitivity; maintains skin's natural balance; defends against irritation.
Shea butter: boosts moisture; natural anti-inflammatory properties; rich in antioxidants to promote anti-ageing.
Olive and coconut oils: deeply cleansing and hydrating; natural antibacterial and antifungal properties, skin synergistic and biocompatible to support barrier function.
Glycerine: naturally-occurring highly moisturising agent.
Aloe vera: naturally soothing for sensitive skin; increases collagen synthesis.
Vitamin e: protects skin cells from damage and supports barrier function.
A clean and vibrant sensory experience to clarify the body and mind that lingers long after use
Dermatologically tested, pH balanced and suitable for sensitive skin.
High performance formulations that deliver noticeable results without disrupting natural skin function.
84-98% certified organic. 100% natural. 100% vegan and cruelty free.
Free from synthetics, parabens, sulphates (SLS, SLES, SDS, ALS), dyes, fillers, phthalates, PEGS, detergents, silicones, mineral oils and palm oil.
Made in Australia. Reusable glass vessel.