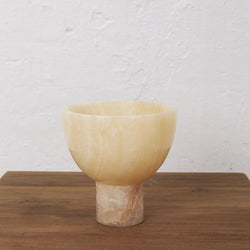 Oberoi Onyx Standing Bowl
This beautiful piece is made using natural stone.  Each item is unique with different colouring and natural patterning.  Marble may contain small cracks, holes and pits that are characteristic of this authentic product.
Dimensions: 

14 x 14 x 16H cm

Handmade in Java, Indonesia. 

Care: Marble is naturally porous so please treat it with care. Only use stone soap or mild dishwashing liquid with warm water to clean.


Each piece has unique colouring and is different in their own way. We do not see this as a fault, but part of its gorgeous uniqueness.