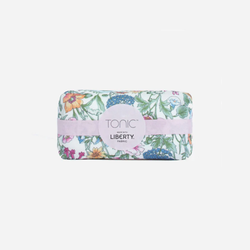 Tonic
Liberty Shea Butter Soap 250g / Rachel
Hand wrapped with Liberty Fabrics, our 'Rachel' Shea Butter Soap is the perfect gift or addition to your hand & body wash routine. Made in Australia, our soaps leave your skin feeling hydrated, nourished, and silky soft. The aroma of Rose Petals will fill your bathroom instantly and provide a luxurious and relaxing scent for yourself and guests to enjoy.
Liberty Fabrics – original British design since 1875
Shortly after opening on Regent Street London in 1875, Arthur Liberty became renowned for his silks. By the 1890's Liberty Fabrics was a byword for the very best of avant-garde textile design. Today, every bolt of Liberty fabric is the product of a bespoke production process: hand drawn or painted by the in-house design team in London, Soho. Transformed onto fabric at Liberty's own Italian printing mill, near Lake Como. Liberty Fabrics are created by skilled technicians who oversee the production of over 300 different designs every year.