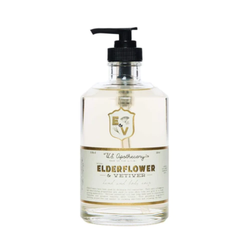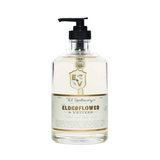 U.S Apothecary
Hand + Body Wash / Elderflower + Vetiver
This earthy floral Hand & Body Soap invites all to enjoy its alluring qualities. Formulated with Elderflower water, the exclusive formula is moisturising and cleansing. Made with a blend of select botanical oils including sugar cane, aloe vera, vegetable glycerin and honey. This light liquid soap is moisture-rich and coats the skin with protectants.
This earthy, floral fragrance invites all to enjoy its alluring union of wisteria, lemon peel and grapefruit. This gender-neutral scent is grounded with a woody vetiver and patchouli base. 
Notes:

 

woody vetiver, patchouli, wisteria, lemon peel, grapefruit

Colour may vary due to natural ingredients.

Made in the USA.

More than 98% natural.

Vegan. Cruelty Free. Not tested on animals.

Paraben and petrochemical surfactant free.

Recyclable + reusable glass bottle.

354 ml.