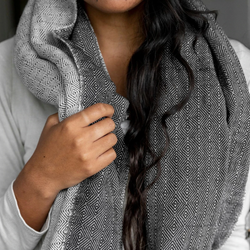 MAY HOME STORE
Blanket Scarf Black
Our 100% Ethiopian cotton blanket has a dense weave making it perfect for winter. This piece also drapes beautifully when wore as a scarf or shawl. Each piece is made with great care and incredible craftsmanship; made on a 4-harness loom where the weaver makes a repetitive pattern with his feet while throwing the shuttle back and forth to create the subtle herringbone design. The final touches are the hand knotted fringes adorning this beautifully made blanket. 
Dimensions: 100cm x 200cm 
Material: 100% Ethiopian Cotton with Hand Rolled Fringing
Origin: Sustainably handmade in Ethiopia. Fair trade certified.