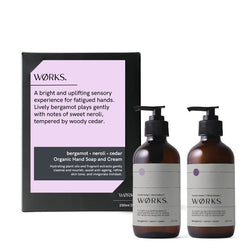 Works
Bergamot Hand Duo Box / 250ml
Inspired by clean Scandinavian living, WØRKS creates pure and organic sensory products with a balanced, minimal approach.
A bright and uplifting duo to care for fatigued hands and invigorate the mind. Lively bergamot plays gently with notes of sweet neroli, tempered by woody cedar.
A daily hand duo to gently cleanse and nourish, assist anti-ageing, hydrate and condition, and protect against environmental damage while uplifting mood and mindset. 
Sweet almond and macadamia oils: rich in fatty acids to improve skin tone; skin synergistic for ready absorption; deeply nourishing.
Aloe vera: naturally soothing for sensitive skin; increases collagen synthesis.
Green tea: rich in antioxidants to fight free radicals and assist anti-ageing.
Vitamin e: protects skin cells from damage and supports barrier function.
84% certified organic. 100% natural. 100% vegan and cruelty free.
Free from synthetics, parabens, sulphates (SLS, SLES, SDS, ALS), dyes, fillers, phthalates, PEGS, detergents, silicones, mineral oils and palm oil.
Made in Australia. Reusable glass vessel.