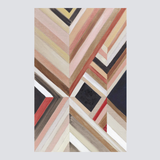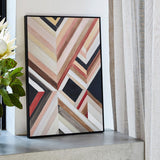 Add a little soul and flare to your interors with our striking range of limited edition artwork by Studio Elwood. With only 50 prints of each piece, all artwork is signed, numbered and registered with Studio Elwood. The artist paints an original oil painting on canvas or linen, it is professionally photographed, then the limited editions are 'giclee' printed onto a high quality artist canvas or acid-free cotton rag paper.
'Pink Diamonds' is a play with monochromatic colour and geometric shapes, like the abstract idea of looking through the segments and sparkle of a fabulous pink diamond. The artist dissects the picture plane with dynamic thin rectangular lines creating a red monochromatic artwork that is strong. This canvas print can be hung vertically of horizontally depending on your installations requirements. Framed in a raw oak shadow box frame.
Handmade in Australia
Limited Edition 1/50
Signed by the artist
Numbered and registered with Studio Elwood
Dimensions: 1530 x 1030mm
Material: Giclee Fine Art Print on High Quality Archival Canvas 340gsm
Please Note: You are still able to place an order for this artwork when it is sold out. However, please allow up to 3 weeks for stock replenishment and delivery.