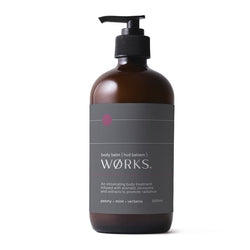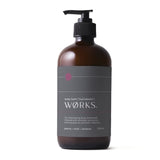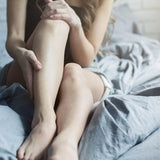 Works
Peony Body Balm 500ml
Inspired by clean Scandinavian living, WØRKS creates pure and organic sensory products with a balanced, minimal approach.
A lush and intoxicating daily treatment to pamper the skin and enhance emotional wellbeing. Delicate peony blossom blends with sweet mint, enhanced by notes of light citrus verbena.
Improve firmness and elasticity, promote radiance, and create a mindful daily ritual with a conditioning body balm that blends certified organic plant lipids with delicate botanicals and skin-softening emollients.
Lilly pilly extract: protects against free radical damage to reduce the appearance of fine lines and sagging; evens skin tone and promotes radiance; stimulates collagen synthesis to improve firmness and elasticity; naturally soothes and calms the skin.
Aloe vera: naturally soothing for sensitive skin; increases collagen synthesis.
Vitamin e: protects skin cells from damage and supports barrier function.
Shea butter: boosts moisture; natural anti-inflammatory properties; rich in antioxidants to promote anti-ageing.
Cocoa seed butter: rich in phytochemicals to improve blood flow, slow skin ageing and protect against UV damage; high in fatty acids for deep hydration; contains oleic, palmitic and stearic acids to nourish the skin.
A lush and intoxicating sensory experience that enhances skin health and emotional wellbeing and lingers long after use
Dermatologically tested, pH balanced and suitable for sensitive skin.
High performance formulation for noticeable results.
84% certified organic. 100% natural. 100% vegan and cruelty free.
Free from synthetics, parabens, sulphates (SLS, SLES, SDS, ALS), dyes, fillers, phthalates, PEGS, detergents, silicones, mineral oils and palm oil.
Made in Australia. Reusable glass vessel.