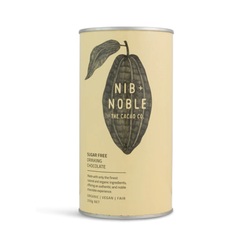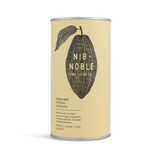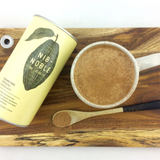 Nib & Noble
Organic Drinking Chocolate / Sugar Free
Nib and Noble celebrates the cacao pod with our premium range of chocolate products. We use only organic and fair trade ingredients, blending raw cacao powder with unrefined coconut sugar for the perfect balance of flavour.  Our sugar free organic drinking chocolate is sweetened with xylitol. Xylitol is a naturally occurring sugar alcohol made from certified Non GMO corn, and is used as an alternative to sugar.
Weight: 250g tins
Perfectly used as a substitute for cacao/cocoa in recipes, making a chocolate sauce or using in smoothies and baking.
Organic / Gluten Free / Dairy Free / Plant Based 
Ingredients:

Cacao Powder* (50%), Xylitol**, Himalayan Salt. *Certified Organic * Sugars as naturally occurring in Cacao, ** Derived from Non GMO corn. Excessive consumption may have a laxative effect.

Serving Suggestion: Hot: Add 3-4 heaped teaspoons to a cup (200ml) of warmed milk (or milk substitute) and mix well until dissolved.  Cold: Dissolve 3-4 heaped teaspoons with a small amount of boiled water to form a paste, add a cup (200ml) of warmed milk (or milk substitute) and stir well until Combined. Pop in a few ice cubes for a perfectly chilled treat.
Recommendations: Perfect for baking, adding to breakfast cereals or let your imagination run wild.