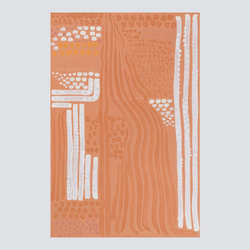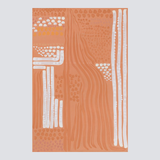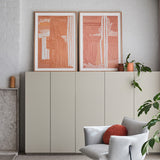 Add a little soul and flare to your interors with our striking range of limited edition artwork by Studio Elwood. With only 50 prints of each piece, all artwork is signed, numbered and registered with Studio Elwood. The artist paints an original oil painting on canvas or linen, it is professionally photographed, then the limited editions are 'giclee' printed onto a high quality artist canvas or acid-free cotton rag paper.
The Flow Series was inspired by moving water, minerals and other natural elements required to nourish Australian flora and fauna. The dots and single brush strokes represent the pitter-patter of raindrops, and the running lines depict flowing water after a rainstorm. White is representative of 'white heat', like the high temperature that radiates off hot metal pink and orange embodies the dust and dirt of the outback. Framed in a Vic Ash slim-line frame.
Handmade in Australia
Limited Edition 1/50
Signed by the artist
Numbered and registered with Studio Elwood
Dimensions: 1045 x 740mm
Material: Giclee Fine Art Print on High Quality Archival Cotton Rag Paper 310gsm
Please Note: You are still able to place an order for this artwork when it is sold out. However, please allow up to 3 weeks for stock replenishment and delivery.