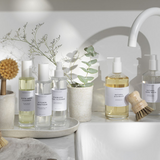 Polish and protect your stainless steel and chrome surfaces with our plant based Kitchen Shiner – no need for toxic chemicals! This spray is safe to use on stainless steel surfaces like kitchen benches, rangehoods, sinks and appliances and leaves a sparkling clean, fingerprint and streak free finish. It comes in a sleek refillable quality glass bottle.
Made in Sydney, Australia.

To use: Wipe down any scraps and simply spray onto surface, rinse or wipe down with a cloth or paper towel. Ingredients: Water, ethanol, alkyl poly glucoside, DPM, PM.