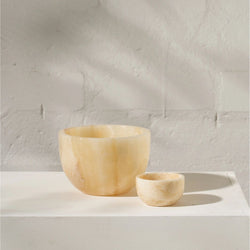 Kaleia Onyx Bowl / Extra Small
This beautiful piece is made using natural stone.  Each item is unique with different colouring and natural patterning.  Marble may contain small cracks, holes and pits that are characteristic of this authentic product.
Dimensions: 7

x 4cm

Handmade in Java, Indonesia.
Care: Onyx is an absorbent + porous material, it is important to take good care of your onyx homewares. Harsh chemicals will sink into the stone and cause it to change colour. 
for cleaning - use a soft cloth with soapy water, do not use abrasive cleaners, steel wool, lemon juice - make sure it dries thoroughly 
for stain removal - use a non-abrasive cleaner such as dishwashing soap or a professional stone cleaner solution which can be purchased from hardware stores