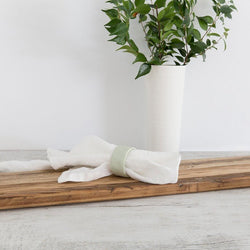 Flax Napkin Ring
These beautiful ceramics are handcrafted by the people of Vietnam.
Flax products are baked at over 1250 degrees Celsius, which strengthens the clay and makes each piece more heat resistant and also much stronger and durable to resist chipping and breakages whilst maintaining its fineness, lightweight and tactile form. 
Flax ceramics can be used for both hot and cold food and drinks, and are safe for use in both the microwave and dishwasher. They are also safe to use in an oven at lower temperatures when re-heating food etc. 
Each ceramic is organically shaped, providing small irregularities that add to the beauty.
Dimensions: 5.5D x 3Hcm

Dishwasher & Microwave Safe