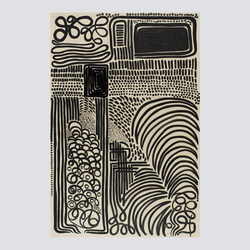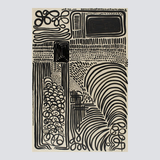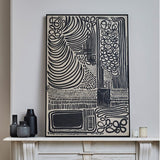 Add a little soul and flare to your interors with our striking range of limited edition artwork by Studio Elwood. With only 50 prints of each piece, all artwork is signed, numbered and registered with Studio Elwood. The artist paints an original oil painting on canvas or linen, it is professionally photographed, then the limited editions are 'giclee' printed onto a high quality artist canvas or acid-free cotton rag paper.
'Black Line on Linen' artwork represents the journey of life. The individual brush strokes represent the start/stop of our daily lives and the line work depicts the twists and turns of our travels. The linen was chosen as a natural background, representing the beginning and the black line the essence of us making our mark on the environment. Framed in a raw oak shadow box frame.
Handmade in Australia
Limited Edition 1/50
Signed by the artist
Numbered and registered with Studio Elwood
Dimensions: 935 x 630mm
Material: Giclee Fine Art Print on High Quality Archival Canvas 340gsm
Please Note: You are still able to place an order for this artwork when it is sold out. However, please allow up to 3 weeks for stock replenishment and delivery.