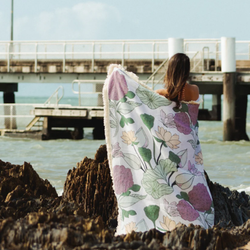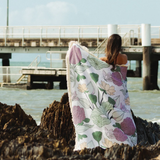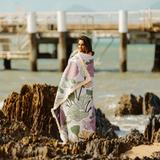 As the perfect companion on your daily adventures, we love when people choose a Sólsse Rug to be part of the every day moments... because as we all know, it's those every day moments that turn into special memories.  Measuring a generous 200cm x 155cm, these versatile blankets are large enough to fit the whole family, or group of friends, 
The Flecker Rug was inspired by the iconic Flecker Botanical Gardens located in Edge Hill. This design relied heavily on drawing from the natural elements , incorporating a beautiful small pink flower, the Pink Euodia', which is prominent in the Flecker Gardens, along with the pods from the Fish Poison Tree. Ferns and water lilies complete this floral pattern, to create a feminine and super pretty design rendition to accompany you on any occasion.
Our 100% Recycled Cotton Rugs are created with Jacquard Weave technology, giving them a high quality finish, and long life. Our woven blankets are thick and luxey, with the weave technique making the back side of the blanket just as beautiful as the front. The edges are finished with matching cotton tassels on all 4 sides, and sighting our Solsse label in the corner, means that you are buying quality and luxury in a blanket. 
The designs have been created with the modern lifestyle and family in mind, and are multi-purpose and extremely versatile, and can be used to enjoy a picnic in the park, to keep the sand at bay on a visit to the beach, and will keep you warm toasting marshmallows around a camp fire. These rugs are equally purposeful when styled indoors, and are perfect for use as a couch throw or bed spread.
100% Recycled Cotton
Reversible Designs 
Designed in Australia 
 Hand finished in Cairns, Australia